I took apart a small speaker.  It is made of a magnet ring, a metallic part (in the middle of the ring), a plastic holder, plastic membrane and a copper wire as a coil.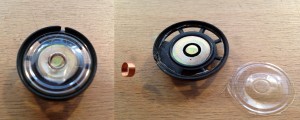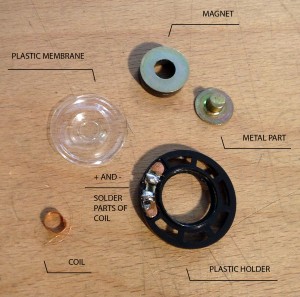 Copper wire (profile: 0,1 mm) is 140 cm long and at least 50 times curled to form the coil. The coil stands between a magnet and a plastic membrane. They are 1,5 mm apart. Constant movement between the coil and the magnet is made by magnet forces. Two ends of the coil: power (+) and ground (-) are connected in the circuit.
The plastic membrane is designed to vibrate with movement and it is not tightly touching other parts of the speaker. The membrane is usually made of waterproof plastic.
The plastic holder for elements in the speaker is unnecessary part. It can be made from any other material and shape.